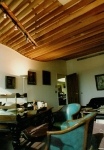 Click on an image to go to the gallery.
Attorney Interior
Weehawken, NJ
October 1990
After we had completed the design for the general premises for Hayden, Perle, and Silber we were retained to design, and realize, an office interior for one of the partners. Mr. Silber wanted to be set apart from the rest of the firm, he was, after all, the one attorney who had held an office in Manhattan. His clients would need to see him as a lone gun, not simply another soldier in an army of lawyers.
This separate image was created with the one surface available for maximum modification: the ceiling. Since the Hudson River was directly outside the office window, the motion of the water, or the concept of the water's motion, was brought into the office and arrested in a wave of cedar planks. The warm glow of the cedar balanced the cold, gray light of the river (which was further muted by the tinted glass). The lights over Mr. Silber's desk were suspended on a track which hung through these cedar planks, allowing the ceiling a further disassociation from the furniture arrangement and other trappings of the ground plane.
Since the office was on the second floor of the converted ferry terminal (a steel-frame building) the design was able to take advantage of the high ceiling. The sheetrock followed the steel roof overhead as closely as possible, giving Mr. Silber's office the highest clearance, with twelve feet at one end. The cedar brought the perceived ceiling lower, but not quite as low as the dropped, acoustical panel ceilings found in the rest of the offices.
Mr. Silber was ecstatic, wildly pleased with the results of the design and carpentry. His office received nothing but compliments.