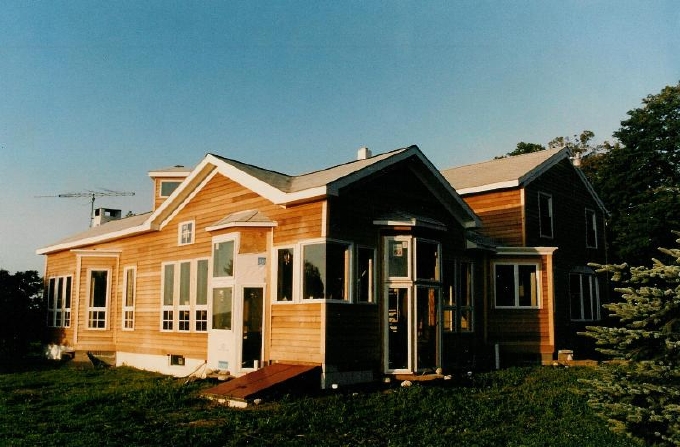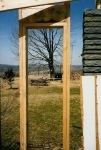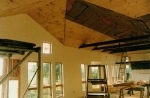 Click on an image to go to the gallery.
Hackett House
Thompson, PA
March 1991
Jason Hackett, a printer from Hoboken, New Jersey, bought a large farmhouse in Thompson, Pennsylvania. For two years he worked on minor renovations to fix many of the small problems the building had. When he was referred to us he was considering some major changes to the existing structure. Our design for him involved opening the southeast corner of the building, and peeling the roof back, allowing a new, two story space within the old shell of the farmhouse to be flooded with light.
It was an opportunity for us to attach a more modern, open space to the very traditional, tightly defined spaces of the original farmhouse. We were also able to introduce a forty-five degree rotation to the primary orientation of the house. This oblique angle was on the site since arrival at the house was along a road that aimed directly at the corner of the new space.
We eroded this important corner, replacing the clapboards with a corner window: a double layer of true bent-glass that from the interior defied the logic of box construction, which dictates that the corners carry the loads of the roof and ceiling.
We removed the brittle asbestos siding and replaced it with warm cedar clapboards. By the time we were done, we had supplanted the feeling that the southern portion of the house was the addition. Instead, the drama of the entry off-axis into this vaulted space, filled with light, made the original farmhouse spaces seem like support for the new gathering hall.
(Because we brought the old addition down to the sill plates and foundation we were able to position all of the new windows freely. This meant that we were able to frame particular views of the site and the trees in those views.)
-- no imgname provided to thmTag -->
Click on an image to go to the gallery.