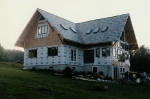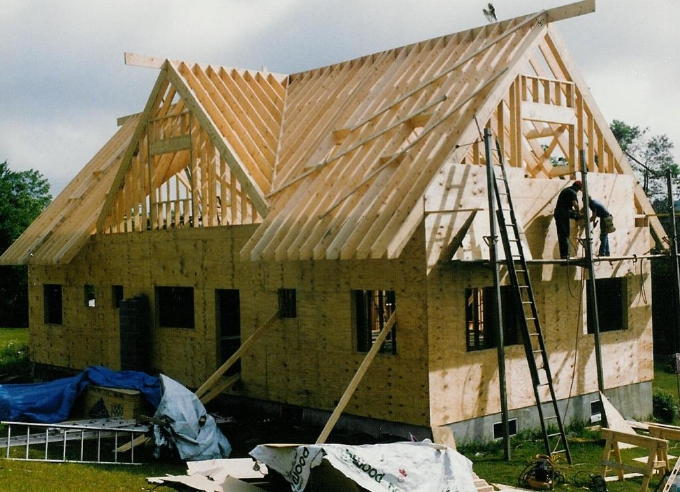 Click on an image to go to the gallery.
Yonke House
Burnwood, PA
May 1991
The Yonkes, a family from Brooklyn, bought fifty acres in a fairly remote section of Susquehanna County. They decided on a site for their house, had a foundation excavated and poured, and built the cinder block walls of the cellar. At that point they were discouraged by the daunting task of designing a house to sit atop their foundation, and simply capped the cellar space. They spent weekends in it, in large communal bedrooms and a living space, for three years before they were referred to us by a local realtor.
The Yonkes, the parents and their four adult children, wished to do the construction themselves. They hired us to design the house (in part to settle disagreements) and to oversee the construction. We were constrained by the existing foundation, but we brought in some new ideas like in-floor heating and cement roof tiles.
This was by far the largest project we had worked on to date, but it had the least freedom. We were faced with very strict parameters of symmetry and window size. Much of the t-shaped plan had been laid out before we were involved. It still was a tremendous structure to draw and watch climb into the sky. The family was thrilled that we mediated the various disagreements so well and in the end their weekend home was even more grand than they had hoped.