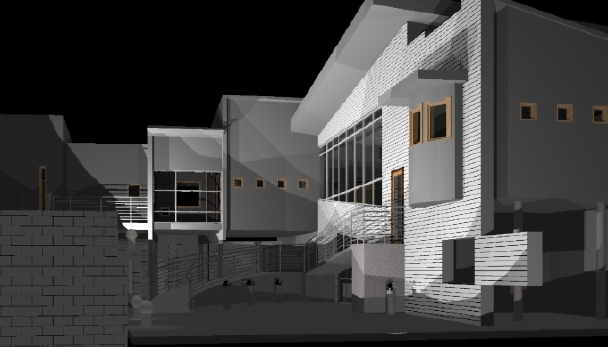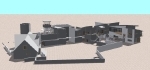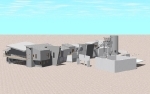 Click on an image to go to the gallery.
The Slammer: Cellblock B
Las Vegas, NV
In 2004 it was clear that it was time to add a family wing to The Slammer.
The general idea was to allow the new wing to be the south wall of the courtyard. A new, even more private portion of the courtyard would have a ramp up to the main level of the new wing. Because there would be children bedrooms in this wing it was important that they be close to the master bedroom. They are, in fact, linked to the master suite through the master dressing room, but they are also just a few steps down the exterior catwalk.
The entire addition is kept behind a screen of white clapboards, a material that references domestic scale architecture and the New England of Mr. Jillette's youth.
The set of small boxes, which slide along one another as the master suite meanders south, continue south to be two more bedrooms and a jack-n-jill bathroom. There is a large entertaining salon on the same level which leads to a small office. (The office has a large window that faces north and looks along the axis of the lap pool.)
Downstairs there is a playroom that has a snack area at one end. This space looks south into the desert through a wall of storefront glass. Also on the ground level is a room for a nanny and a powder room for playdates.
Construction started in June of 2005 and was substantially completed in November 2006.