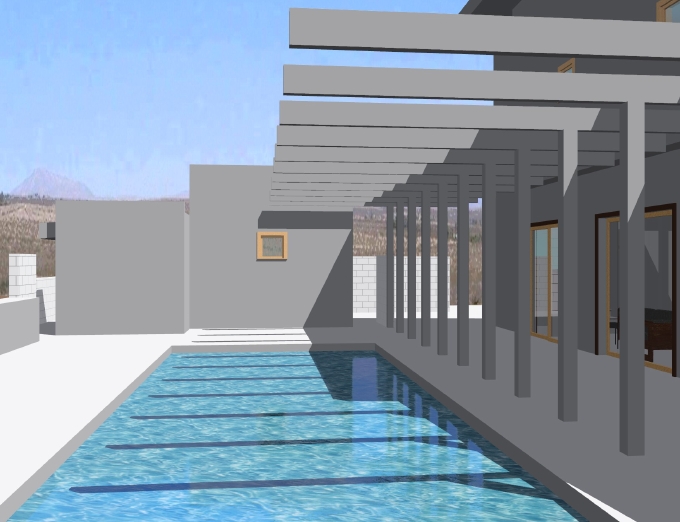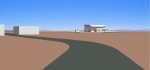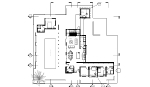 Click on an image to go to the gallery.
Palm 30
Twenty-nine Palms, CA
December 2004
After a number of visits to Joshua Tree National Monument (hiking, bird watching, rock scrambling, and picnics in the desert) the clients decided to buy some land and build a weekend house. The site was a desolate seventy-five acres just north and east of the city limits of Twenty-nine Palms.
The program for the building was simple: a pleasant retreat for a family and possible guests. We worked within a tight budget and listened closely to our structural engineer. We kept the forms simple, but carefully adjusted their position on the site to respond to the views and the arc of the sun in the wide desert sky.
The main volume of the house is a two story space with all of the public spaces in a single open rectangle. Looking down into this space is a catwalk which runs along a set of bookshelves. This is an arrangement of spaces, and a reminder of experiences, from the client's summer home experiences growing up, where there were overlooks into the dining room and a large collection of books.
The guest house (a single room with a bath), a writing room (the client is a writer from Los Angeles), and the main house are all separate volumes. Arranging these volumes on a manipulated square building pad created a pool area, a sort of blind two-sided courtyard, and an entry step to the house. A number of the exterior spaces are without corners, and are defined by the tenuous edge-to-edge relationship of different volumes.
The construction documents were completed in February 2005 and went out to contractors in the Yucca Valley area. Unfortunately, due to the building boom in the Palm Springs and Desert Hot Springs area, none of the local contractors were interested in the project.
Click on an image to go to the gallery.