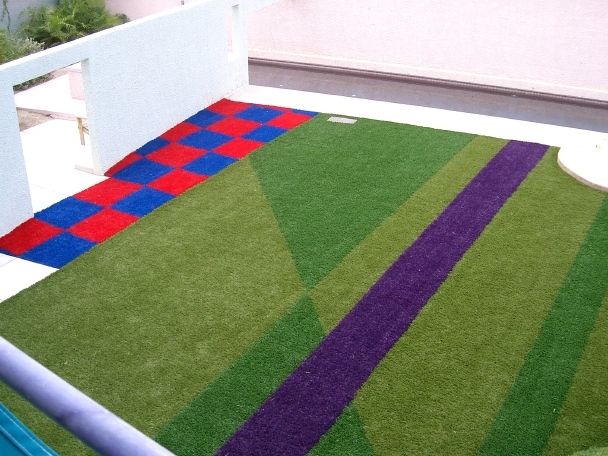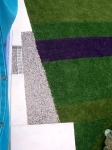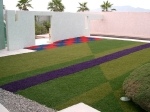 Click on an image to go to the gallery.
The Slammer: Crazy Grass
Las Vegas, NV
In keeping with the idea of embracing the environment of the desert, the original landscaping in The Slammer's courtyard included only a small plot of grass. Just enough to play volleyball on.
No matter how hard the caretaker worked, this tiny plot just could not settle into some seasonal cycle. The special soil brought in for the under-grass irrigation settled oddly or ran into the drains when it rained. The sprinkler heads became clogged with minerals from the well. It was a constant problem for only a few days of enjoyment.
We researched artificial turf and handled a bunch of samples. This was the best (the NFL uses it, the bright colors are often in the end zone). It was nice to be able to extend the scoring pattern of the concrete into the landscaping and to draw the diagram for the Vintage Nude Studio's plan in different colors. As always, the subtle geometric shifts in the plan of the house informed what we did with the details like the new drainage vault.