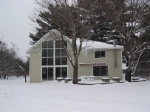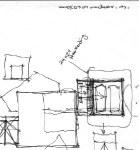 Click on an image to go to the gallery.
Equinox Studio
Manchester, VT
A weekend and summer home in the green mountains of Vermont needed an addition that would house a garage below and a studio above. The structure was originally a carriage house and the renovation to residential spaces was done extremely sensitively. There is a large two story space facing Equinox Mountain, with this stunning view to the north captured by two stories of glass.
We presented a rough sketch for placement of a new structure adjacent (but not yet connected) to the original house. There are considerable renovation issues on the main house, and if the two are kept separate during that work the cost will be lower.
We mimicked the large opening to the north, perfect for the painting studio, and also continued the line of small square windows which were original to the horse stalls in the carriage house. We tried to maintain the simple dignity of the agriculture buildings common to the area.