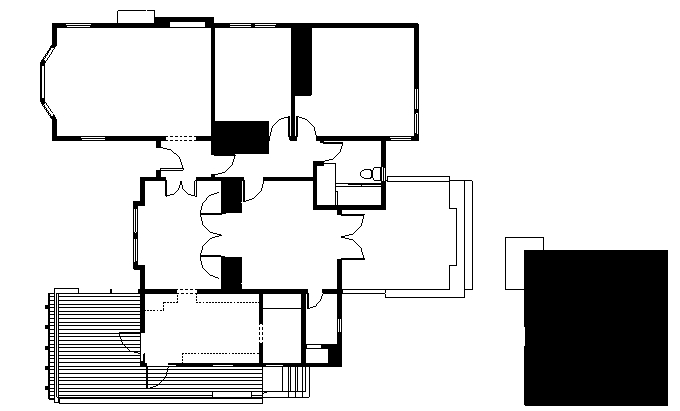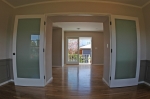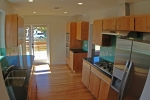 Click on an image to go to the gallery.
West House
Pacific Palisades, CA
July 2006 to December 2006
The clients acquired the house in the lot adjacent to their home. This was a protective measure, to keep a developer from purchasing it and building something which would destroy their own second story views of the Malibu shoreline.
-- no imgname provided to thmTag -->
Click on an image to go to the gallery.
The program was to renovate the 1940s house, updating the surfaces and using whatever minimal changes we could to make it a desirable rental property. The clients agreed to have all of the responsible work done: a new heating and ventilation system, new electrical wiring, all new copper plumbing, and a new hardwood floor. It had been a long time since any portion of the home had been upgraded or even maintained well.
To keep costs to a minimum we didn't cut any new openings in exterior or interior walls, and we didn't make any changes that required structural calculations. Even though the Master Bathroom is dramatically different, the plumbing for the fixtures are in primarily the space locations.
Studying the plan we realized that there was an old connection between the Dining Room in the front of the house and the small Family Room which opened to the back yard. We opened the wall, added French doors, and now the space flows all the way from the street to the rear of the lot. (The French doors between the Dining Room and the Family Room are frosted, and there are curtains to the front yard, so privacy can be maintained.)
-- no imgname provided to thmTag -->
Click on an image to go to the gallery.
We changed the entry into the Kitchen, so that we could make the old, tiny entry into a Laundry Room. We altered the smaller bathroom so that there is a single entrance instead of two, and so that there is a real door (it had an accordion door into the Den).
We designed a deck for the south west corner of the house, off of the Kitchen. The details are an evolution of the railing we designed for the Canyon Deck. To get the full impact of the project you should peruse the gallery.